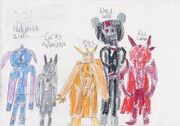 Information
Edit
The Xorda are an evil gang of robots and electromagnetic aliens who are bent on dominating the whole universe.  They are really vicious and dangerous because they are intent on stealing Planet Batteries for electricity and Pulsar Magnetite Crystals for magnetism, come with a blade weapon or equipped missiles and are even willing to sacrifice their own to wipe out their enemies faster.  They are also so powerful that Darienee and co need a powerup or another ally to stop them.  A girl named Flannery came to Earth to get help from the heroes against the Xorda.  Since then, they represent the only hope for the universe's safety.
Important Xorda
Edit
Ad blocker interference detected!
Wikia is a free-to-use site that makes money from advertising. We have a modified experience for viewers using ad blockers

Wikia is not accessible if you've made further modifications. Remove the custom ad blocker rule(s) and the page will load as expected.